Brazil Santos
About Brazil and its Coffee Production
Brazil is, quite simply, the largest coffee producer in the world. For example, in 2016 it is thought that 2,595,000 metric tons of coffee beans were produced in Brazil alone.
Interestingly, Brazil has been the highest producing country for coffee for over 150 years with land dedicated to coffee production and plantation covering some 27,000 square kilometres (10,000 sq mi), the vast majority are mainly located in the south-eastern states of Minas Gerais, São Paulo and Paraná where the environment and climate provide ideal growing conditions.
Brazil is the world leader in the production of green coffee currently producing about a third of all coffee, followed by Vietnam, Indonesia and Colombia.
---
Where does Brazil Santos come from?
Most Bourbon Santos is grown at elevations from 600 to 1,200 meters in northern Minas Gerais or in the State of Sao Paulo, in Brazil, and is distinguished by its smooth and mild flavours, often sweet and nutty.
Brazil is divided into 26 states, and of these, half (13) have coffee plantations or farms. But most of the coffee is grown in the southeastern region of the country comprising five states – Bahia, Espírito Santo, Minas Gerais, Paraná, and São Paulo. What are some of the most significant coffee-producing areas in the country?
Minas Gerais is by far Brazil's most important coffee-producing state, as nearly half of the entire country's coffee production is based there. Rich soils and higher elevations in this region make it perfect for growing the country's most famous speciality coffees. Varieties grown here include Catuaí (and Catuaí Rubi), Obatã, Icatu, and Mundo Novo.
Minas Gerais is home to four major producing regions:
Cerrado de Minas – Cerrado de Minas holds the special distinction of being the country's first region to be awarded the Designation of Origin (Cerrado Mineiro) status, a title that's like the coffee equivalent of a famous wine region. The region has higher elevations (800 to 1,300 meters), humid summers, and mild/dry winters, which enable it to produce high-grade speciality coffees. Coffees grown here are more acidic and usually fall in the middle when it comes to sweetness and body.
Chapada de Minas – The landscape of Chapada de Minas is diverse, with valleys often subdividing the region's highland areas. Mechanized production is common throughout the area, and some of the varieties grown here include Catuaí and Mundo Novo.
Matas de Minas – Nestled in the Atlantic Forest and, as such, mostly smaller farms populate the area. Temperatures are warm and humid, and the region's landscape is rather uneven. The region is also becoming well-known for its up-and-coming speciality coffee production. Varietals grown here are often sweet, imparting notes of chocolate or caramel.
Sul de Minas – Translated to "South of Minas", Sul de Minas has an average altitude of about 1000 meters and mild temperatures. This combination has allowed the region to become an industry hotspot within Minas Gerais – despite being cultivated on mostly smaller farms, 30% of the country's coffee is produced in Sul de Minas. Sul de Minas cultivates a diverse range of varietals, but the flavour profile of most coffees grown here consists of a fruitier aroma, a hint of citrus in the taste, and a full body.
São Paulo is the home of the Port of Santos, the country's primary coffee exporting port, and it's home to two regions that grow high-quality coffee.
Mogiana

 

– Located in the state's northeastern area, straddles the border with Minas Gerais and is one of the country's most important growing regions. A combination of its famous rich red soil, perfect altitude (900 to 1100 meters), craggy terrain, and mild temperatures yield high-quality coffee like Catuaí and Mundo Novo.
Centro-Oeste de São Paulo

 

– The region encompasses four cities and is more down-home, with predominantly small- and medium-sized fields here. As with Mogiana, the area is hilly, with uneven terrain.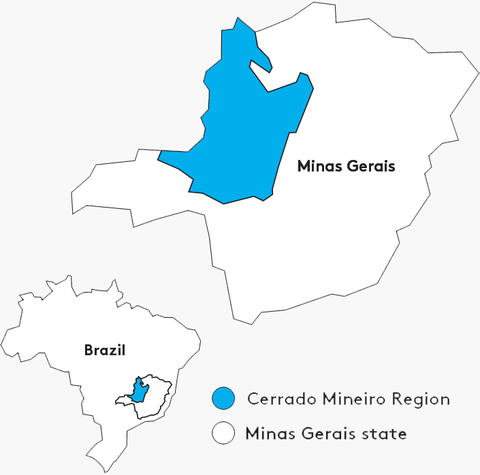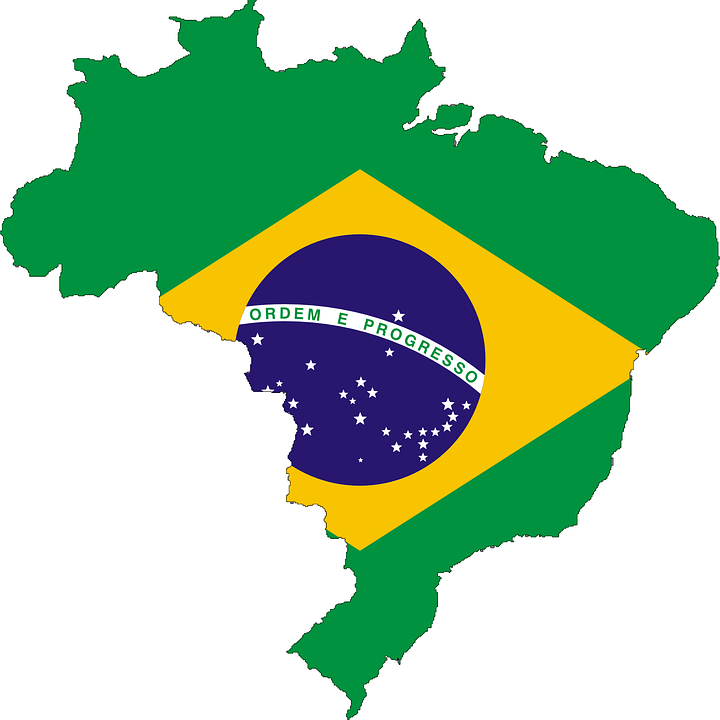 ---
What is Santos?
Brazil Santos is not determined by any of the production regions in Brazil.
The classic term was created in the old days, before the '90s, when the government of the country used to control their internal market.
Brazil Santos CoffeeCoffee was classified as Santos 1, Santos 2, Santos 3 and so on, because the port of Santos was, and still is, hugely the major trading gate from where Brazilian coffee was exported.
Nowadays the Brazil Santos Coffee expression is used to point to a high quality, most usually Bourbon, some Arabica, but never Robusta, type of coffee.
"Brazilian Santos Coffee" is a symbol of high quality.
---
Tasting Notes for Brazil Santos
| | |
| --- | --- |
| Country | Brazil |
| Screen Size / Grade | SCR 17/18, NY 2/3, Fancy, SS, FC, GRSH |
| Bean Appearance (green) | Even greenish |
| Acidity | Low to medium |
| Body | Syrupy soft |
| Bag Size | 60kg |
| Harvest Period | April to August |
| Description | Delectably smooth and medium strength, these beans come all the way from exotic Sao Paulo. You'll love the well-rounded taste, with a touch of sweet acidity. |
| Tasting Notes | Medium intensity with a sweet finish |
| Strength | (Medium) |
| Processing Method | Natural (Dry Processed) |
| Altitude | 800 to 1,300 MASL |
---
History of Coffee in Brazil
Coffee was not native to the Americas and had to be planted in the country. When the coffee plant was introduced to Brazil in the 1700s, legend has it via a cunning bit of bio-espionage, it flourished.
Francisco de Melo Palheta planted the first coffee tree in the state of Pará in 1727 and coffee then spread south reaching Rio de Janeiro in 1770.
Coffee was initially planted only for domestic consumption but during the 19th-century demand for coffee started to increase in America and Europe.
By 1820, coffee plantations began to expand in the states of Rio de Janeiro, São Paulo and Minas Gerais, representing 20 per cent of world production and, by 1830, coffee became Brazil's largest export.
By the early 20th century Brazil had global production in a vice-like grip, supplying 80 per cent of all the world's coffee, and it is still the world's largest producer with roughly a third of the global supply, or three billion tonnes a year. In total, plantations take up an area almost the size of Belgium, mostly in the cooler, higher altitudes of the states of São Paulo and Minas Gerais where the arabica plant is most content.
From the abolition of the slave trade (1888), which nearly destroyed Brazil's coffee industry and the Great Depression (1929), where prices plummeted and the trade diminished.
Brazil has overcome these economic and political issues to become a flourishing economy and a major player in the coffee industry.
And in case you were wondering – Brazilians themselves love coffee, it's the most consumed product by individuals over 10. It adds up to a whopping 79.7 litres of coffee per year, per person!
---
Interested in some Brazil Santos?
Visit our Santos page or Espresso Bar to buy a bag of our Brazil Santos.