Laos Peaberry from Saffron Coffee
$21.60 – $64.00
Product Information
Description:
The Original Luang Prabang Coffee
All of our Saffron coffee is planted, picked, washed and shipped from the World Heritage city of Luang Prabang. All other Lao coffee comes from the south.
Cultivated by Hill tribes in Luang Prabang
Hmong, Mien, Gasak and Khmu hill tribes grow Saffron coffee.
Organic & Shade Grown
All Saffron Coffee is naturally organic without the use of any chemical fertilizers and is all grown under a canopy of shade.
100% Highland Arabica
Saffron Coffee is 100% Arabica coffee. We do not grow any Robusta. Saffron coffee comes only from the high mountain peaks and plateaus of over 800 masl.
Wet Processed
Saffron Coffee only uses the highest wet-process methods of processing coffee to preserve all the natural flavours of the bean.
Bean Information:
Origin: Laos
Region: Luang Prabang
Producer: Small Local Farmers (Saffron Coffee)
Bean Type: Arabica
Varietal: Catimor
Processing: Fully Washed
Altitude:  800-1400 MASL
Caffeine Content / Strength:

Cupping / Tasting Notes:
Chestnut, Cocoa Powder, Roasted Peanuts, Brown Sugar, Wheat
Profile Map: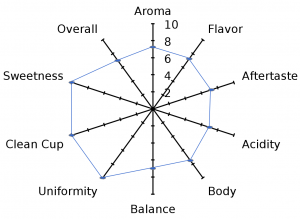 | | |
| --- | --- |
| Weight | N/A |
| Grind Type | Aeropress, Whole Bean, Domestic Espresso, Plunger, Drip Filter, Stove-top Espresso, Turkish |
| Size | 250g, 500g, 1kg |