"The coffee market is in the grip of the funds in one of the biggest rallies we have seen in modern history, and has taken everyone by surprise with its fury and speed."
MTC Groups monthly newsletter describes what is going on in the global coffee market and it is rather ominous. The graph below shows just how steeply coffee prices are moving at the moment. There hasn't been such a drastic climb in prices since 1994. Since January this year, the market has rallied by almost 90c per pound – this will equate to the price of landed coffee in Australia increasing by about $2/kilo. For roasters like ourselves this is scary news. Given that we lose up to 18% in weight from moisture loss during the roasting process, that $2/kilo increase is actually more like $2.40 in real terms.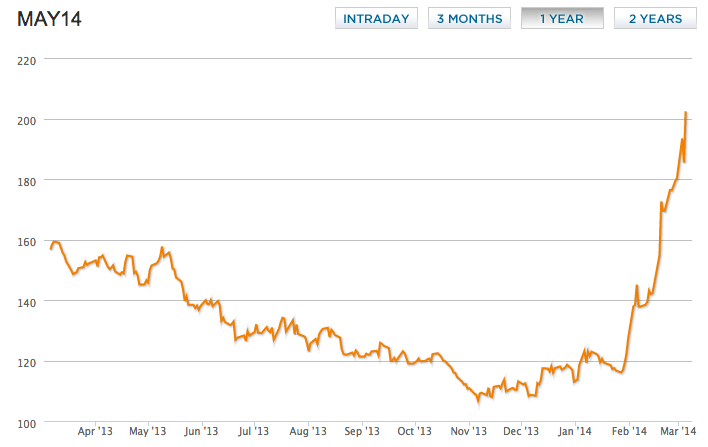 So, what is causing this drastic rise?
1. Drought in Brazil
There has been abnormally dry weather in Brazil and it has never occurred at this stage of the crop cycle ever before in history. This has caused concern and the uncertainty of what the result will be. If the latest estimates of production prove to be correct, which is 46-48 million bags, this reduction will lead to the current surplus dipping into deficit. Some experts believe this drought will also have an impact on the 2015/2016 harvest, which will further stretch the global supply/demand balance.
2. Hedge Funds
Sophisticated modelling programs used by hedge funds were used to see the effect of the drought on yields. It showed there would be an imbalance in supply/demand and so huge global funds poured money into the coffee market. Other traders saw this rally and jumped on the wagon too – thus further increasing the run. The idea being that eventually coffee traders/brokers/roasters will have to buy, even at these high prices.
3. Roya (Coffee Leaf Rust)
Roya is an orange-colored fungus called coffee-leaf rust and it is devastating to coffee plantations. There has been a terrible outbreak of Roya in the Central American regions over the last season. About half of El Salvadors plantations are affected, Guatemala has had a 40% drop in production and Costa Rica also being severely affected now has no coffee even left to sell.
What will it mean to you?
With such drastic price rises, roasters like ourselves will undoubtedly need to increase their prices. A $2/kilo price rise for roasted coffee would be generous, if a roaster was to maintain similar profit margins. Remember there are many overheads that a roasting business has to cover, over and above the cost price of green beans – wages, rent, gas/electricity, insurance, equipment costs, packaging etc. However, with margins still pretty good on a cup of coffee, you may not see a huge increase in coffee prices from your local cafe – maybe 20c-30c would be fair if they are using premium specialty coffees.
We are currently revising our costs on our range of beans. There will definitely be some price rises, particularly with the severely affected Central American origins, such as Nicaragua, Guatemala and Costa Rica. Some blends may not be too drastically affected, and others will. We will certainly aim to limit these rises as much as we can afford to. The new prices will come into affect at the beginning of April.