Quick Mill Rubino Plus PID
$3,290.00
RRP: $3,590
PID for added temperature stability and control
In stock (can be backordered)
Product Information
Description
The Quick Mill Rubino Plus is a semi-automatic espresso machine designed for home or small office use. It features a compact and sleek stainless steel body with a user-friendly PID interface and a variety of advanced features that allow for precise customisation and control over the brewing process.
It is extremely compact in size at just 265mm wide
The Rubino Plus is a heat exchanger machine which means it can make coffee and steam milk at the same time.
It has an exclusive Quick Mill pulsor device added to the vibration pump. This pulsor device helps to stabilize the pump pressure and improve quietness.
The Rubino features an E61 group allowing good stability of the extraction temperature.
Copper boiler 1.8L thermally insulated Automatic pump refilling with electronic level sensor Group type – E61
Features
P.I.D. For Temperature adjustment
Copper boiler 1.8L thermally insulated
Automatic pump refilling with electronic level sensor
Group type – E61
Anti-burn stainless steel steam and water wand
Steam wand in steel
Water wand in steel
Manometer boiler pressure control
Magnetic sensor low water
Vibration pump with pulsor
Capacity water tank Lt. 3
WEIGHT:  20KG
POWER:  1500 W
VOLTAGE:  230V-5060HZ  /  120V-60HZ
DIMENSION:  L 26,5 X P 45 X H 36,5 cm
Warranty
24 Months Warranty (Parts & Labour)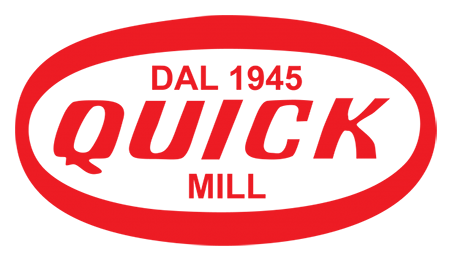 | | |
| --- | --- |
| Boiler Type | Heat Exchange |
| Manufacturer | Quick Mill |
| Pressure Profiling | No |
| Pump Type | Vibration |
| Shot Timer | No |
| Size | Compact |
| Temperature Control | Pressurestat |
| Warm up time | 15-30 min |
| Water Supply | Tank Only |