ECM Synchronika
$4,999.00
RRP: $5,450.00
Pure Lifestyle
Available on back-order
Product Information
Description
Coffee boiler and steam / hot water boiler made of stainless steel
High-quality ECM brewing unit with innovative stainless steel brewing bell
Quiet rotary pump
Switchable from the water tank to fixed water connection
Large boiler and pump pressure gauge in retro look
Professional tilting valve technology in an extravagant design with ergonomic movement mechanics
2 ergonomically angled ECM filter carriers with balanced weight distribution
FREE DELIVERY to Sydney Metro
FREE 500g Coffee Beans
FREE Home Barista Course
Subtle, silver-coloured PID display
– for the individual temperature setting of the boiler
– to display the cycle time of the espresso
– with a reminder for group cleaning
Features
Dual Boilers
Coffee boiler made of stainless steel with a 0.75L volume; steam/hot water boiler with a 2.0L volume
A steam boiler which is independently connectible with an additional on/off switch
PID display – individual adjustment of temperature in each boiler; shows the brewing time in seconds; an optional display to remind you of the group cleaning; can be turned off at any time.
Patented ECM E61 brew group
Quiet rotary pump
Switchable from the water tank to direct water connection
Drainage hook-up for residual water is possible
Automatic low water level shut off
"no burn" steam and hot water wands
Ergonomic ECM portafilters
The ECM Synchronika Coffee Machine is a dual boiler espresso machine that features a rotary pump and produces consistently great coffee.
This home espresso machine is powerful enough to make several coffees one after the other and uses separate coffee and steam boilers, which means minimal recovery time between coffees and you can steam milk and drop espresso shots at the same time!
The PID control on the machine can be adjusted via a panel at the front of the machine, which doubles as a shot time counter as well, so you have supreme control over every cup of coffee you make.
The Synchronika can also be used with the water tank or plumbed in, and features an automatic low water level shut off to avoid damage to the machine.
The ECM Synchronika Coffee Machine is a top quality home coffee machine that will allow you to produce delicious espresso and milk coffee at home, consistently and with no fuss!
Warranty
24 Months Warranty (Parts & Labour)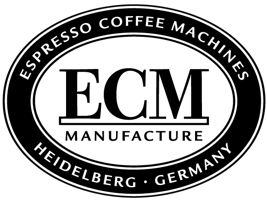 | | |
| --- | --- |
| Boiler Type | Dual Boiler |
| Manufacturer | ECM |
| Pressure Profiling | No |
| Pump Type | Rotary |
| Shot Timer | Yes |
| Size | Large |
| Temperature Control | PID |
| Warm up time | 15-30 min |
| Water Supply | Switchable (tank or direct connection) |